The Indian Media, UNHRC Commissioner & Opposition Is trying Hell bent to prove Gau-Rakshaks Aka Cow Vigilants Aare the Face of Hindu Terror. In their propaganda The cases of Akhlaq & Pehlu khan has played a vital role, A Media house Hindustan Times even started a Website To Monitor These hate crimes Known As hate Tracker Which is completely biased towards the peaceful community of India. As they never report crimes by Cow Smugglers Against Gau Rakshaks & Others.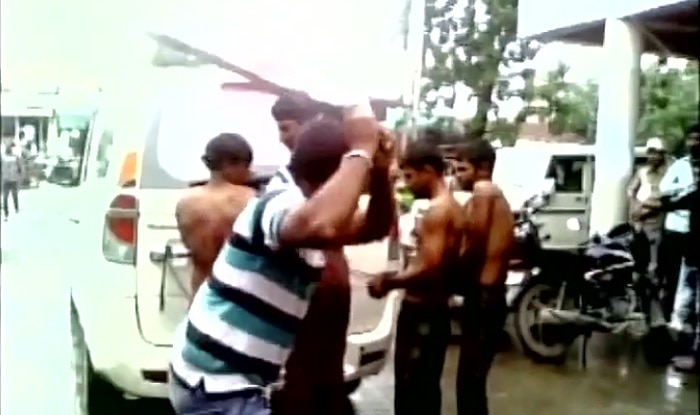 Such a case of Vigilantism of Cow Smugglers is left unreported by the Indian media bcoz it doesn't suit their agenda. A BSF jawan on Thursday lost his life at Gaighata area in North 24 Parganas district of West Bengal when he was hit by a car being used for smuggling of cows across the international border with Bangladesh.
A 45-year-old BSF Jawan was killed in a bid to stop a vehicle carrying cattle at Gaighata near Indo-Bangla border. The deceased Jawan, Tusharkanti Das was run over by a vehicle carrying at least 5 cattle. He was rushed to the local hospital where he succumbed to his injuries.
BSF sources said five small cows were loaded inside an Indica car by the traffickers thinking that the vehicle would not arouse any suspicion since a car is not considered the right sort of vehicle for transportation of bovines.Tushar Kanti Das a BSF head constable belonging to the 64 battalion of the paramilitary force, sensed something was amiss and challenged the driver.
The driver knocked him down but in the process also lost control of the vehicle which hit a roadside barrier and stopped. While one of the cows died in the crash, the driver managed to flee.
Arindam Mukherjee, officer-in-charge of the Gaighata police station, told this reporter that he had received information about a BSF jawan getting killed in an accident but was not aware of the details.
However, RPS Jaisawal, DIG, and BSF spokesperson confirmed the incident and said the process to register a FIR had been initiated by the BSF. The BSF has written several times to the West Bengal Government to implement the state government's own policy that says no cattle market can operate within eight km of the Indo-Bangla international border.
Still, This cattle market in Panchpeta under Gaighata police station area operates illegally violating the government norms. The cattle market is located within 3-5 km of the border outpost. Instances of cattle smuggling through this markets are rampant.
The only news in media is just this tweet by a supreme court lawyer& Bjp state President West Bengal –
BSF Jawan Tushar Kanti Das killed by Cow smugglers for trying to stop truck near Bengal-BD border. No Koharram since he was not Pahlu Khan.

— Prashant P. Umrao (@ippatel) September 15, 2017
1.1 @BSF_India Jawan(64BN) Tusharkanti Das was crushed to death by a vehicle while trying to stop it from cow trafficking. pic.twitter.com/diHocpefVf

— Dilip Ghosh (@DilipGhoshBJP) September 15, 2017