Social media has exposed The Dual Mindset of Indian Media Who Portray them as neutral while on screen & Abuses or Defame others due to lack of their Civility.
Now some journalists are taking this bar "higher" – some of them has gone ahead & abuse P.M. Modi on the occasion of his Birthday. First DD Prasarbharti Ex Chairperson Mrinal Pande Who compared P.M. With Donkey while wishing Him Birthday. Well, she is facing heavy criticism from own tribe including Ravish Kumar too.
And Another From The Journalist Of News Portal The Quint who Tweeted "Good To Know That Modi Is one Year Closer to Death/Retirement"
The Journalist named is Suprateek Chatterjee & works with the Online News Portal The Quint, who always remain in Controversies for their Stand Against Current Govt., Hinduism etc.
Good to know that Modi is one year closer to retirement/death. #IChooseOptimism

— Suprateek Chatterjee (@SupraMario) September 18, 2017

The tweet shocked many people on Twitter, who read this tweet as a wish to see PM Modi Dead.
Im Trying to FigureOut what Kinda Mutations LeadTo Birth of LowLife Commie Scums?
.
Yr Birth MustBe ApologyLetter Frm Condom Co @SupraMario pic.twitter.com/4BXu6Dog2G

— Jay® (@Saffron_Rocks) September 18, 2017
If you wish for Modi's killing like moron @Supramario does… Youll be on hire with @TheHindu @TheQuint @Openthemag @thecaravanindia … pic.twitter.com/XCjQT06API

— MediaCrooks (@mediacrooks) September 18, 2017
Won't be surprised if loonies like @SupraMario get caught plotting assassination attempt on Modi.https://t.co/1lUi37ngNW

— Spaminder Bharti (@attomeybharti) September 18, 2017
Let's see how many media houses and journalists debate this abuse to the PM.
Any takers? @Nidhi @sanket https://t.co/bEYG7JQNIx

— Rita (@RitaG74) September 18, 2017
If The Quint keeps promoting people like Suprateek Chatterjee, very soon it will be known as The Cunt

— Rahul Raj (@bhak_sala) September 18, 2017
A blue tick Bong Intellectual on PM Modi 👇
As expected, works with Leftlibs & followed by those who say RWs rejoiced death of #GauriLankesh pic.twitter.com/9NkLjpLGlq

— Mihir Jha (@MihirkJha) September 18, 2017
This prick @SupraMario must be the kinds who wishes the same for his ageing parents? Friends too? https://t.co/1k0ZvdiDHP

— Maya (@Sharanyashettyy) September 18, 2017
After The things got worse Online News Portal The Quint has distanced itself from the columnist's tweet, with further announcing that they will not employ Suprateek's services consequently. Quint In its statement stated,
Suprateek Chatterjee is not an employee of the Quint. He has been a Contributing Writer. We are shocked by the views put out by him on twitter & condemn all hate-mongering. He will not write for us again & all his post are being taken down from our site.
.@TheQuint condemns any kind of hate mongering. pic.twitter.com/CvdTNnY901

— The Quint (@TheQuint) September 18, 2017
Suprateek Chatterjee after disassociation by the Quint Has Changed his Twitter bio, where he mentioned that he writes for OPEN magazine, The Hindu, The Quint, Buzzfeed India, Caravan, GQ Etc.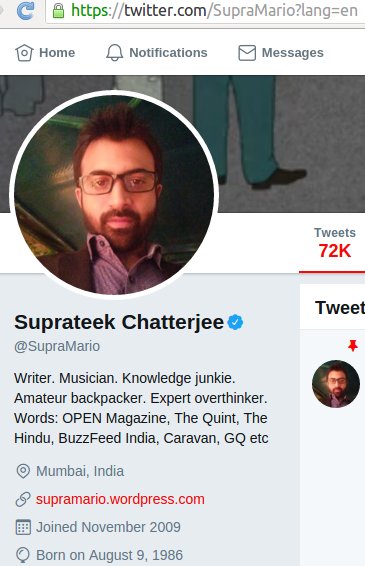 He also in series of Tweets tried to clarify his stand, He said that
you can interpret it that way if you like. honestly my reason for saying that was that it doesn't seem like he'll ever retire so. Death is the only thing that could stop him. Also, really, I feel no guilt in wishing this for him. he is definitely the exception. It is my right to hate him and express it how I feel. It wasn't a call for action before you go down that road. 
He Has Put His account in the Protective mode now that's why we are unable to post his views. But When A User Justified Celebration of Murder of Journalist Gauri Lankesh, Suprateek countered Own Theories.
While the freedom of expression gives Suprateek the right to write whatever he feels including anti-Modi tweets, many people thought that he crossed a line when he directly wished for the death of the Prime Minister of India in past too. Such a strong hate for Narendra Modi also raises a question over the objectivity and truthfulness of reports filed by such journalists.
#Share Your Views!