The Hatred Of Indian Media Towards P.M. Modi yesterday witnessed an another low when Padma Shree awarded ex Chairperson Of DD Prasar Bharti Tweeted An Image of a donkey to wish P.M. Modi His Birthday.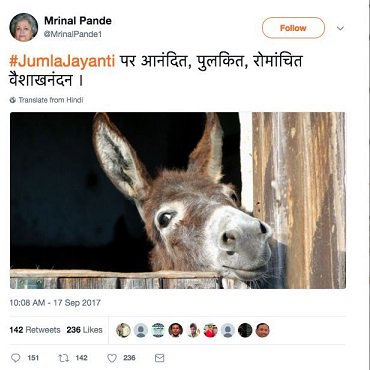 On yesterday's Prime Minister Narendra Modi's birthday, he got great congratulations and good wishes on social media. Some people treated their birthday with praise, some trolled them. But there was a tweet which also put the journalism world in a shock was from Mrinal Pandey. Mrinal Pandey wrote, ' blissful, ecstatic, thrilled Vaishakhandanan on Jumla Jayanti'
Her comments have been condemned by many journalists including Ravish Kumar, Ajit Anjum and have said that she is such a great person & she should use a limited language on social media.
Ravish Kumar has written on his Facebook page,
The language and satire of both journalist Mrinal Pandey & of Congress spokesman Manish Tewari were very bad. On the occasion of anybody's birthday, there should be generosity to congratulate first, then there is a right to joke on another occasion. Mrinal could stop True, on the birthday of the prime minister, more people made lupines and bowed down with Fenku Day. It has become part of the politics of the people
Famous journalist Ajit Anjum wrote on social media,
Mrinal ji, what did you do? Today is PM Modi's birthday. Country- His supporters / seekers / leaders / workers / people / ministers / community / MLAs were celebrating in the world. They were giving their best wishes in their own way. This is the right of everyone who believes in PM Modi. From Mamta Banerjee and Rahul Gandhi, all the opposition leaders also gave it. If you do not want to give, do not give it, it is your right. The Constitution of India does not compel you to celebrate the birthday of PM or give good wishes. You are unhappy with such an environment of celebration, this is your right too. But for PM Modi or his supporters who celebrate his birthday, use such a language, it is not right.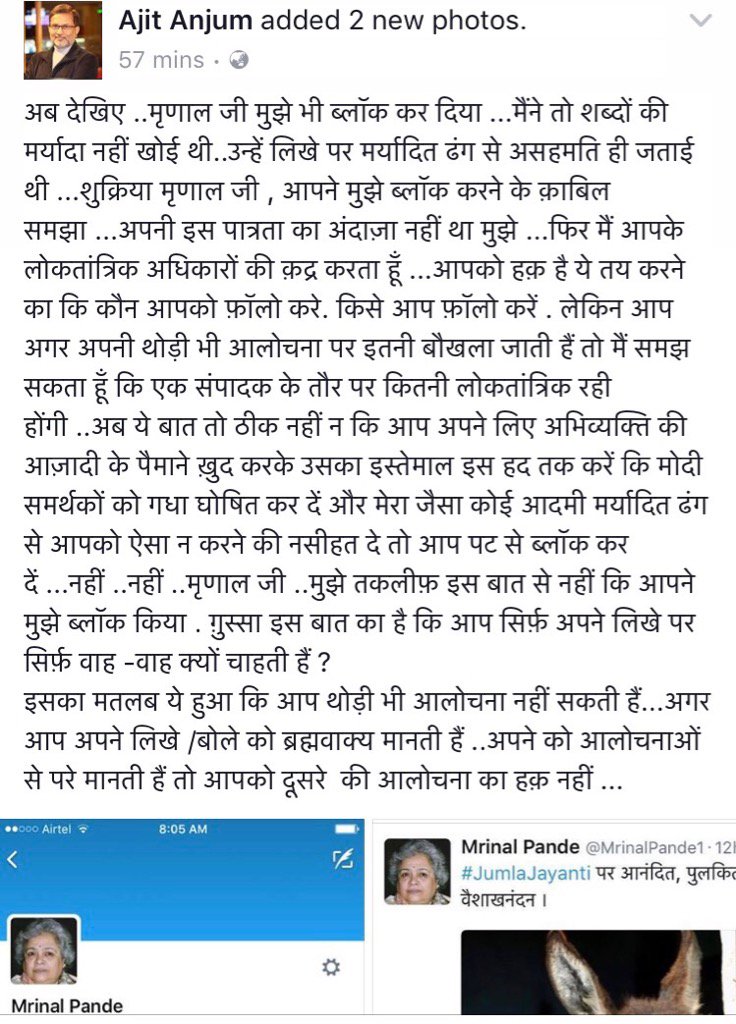 After this, The Social media Bulldozed Mrinal Pande with their anger.
@ajitanjum का आपके नाम एक पत्र है @MrinalPande1 जी https://t.co/IkYIDuFMaT

— Vinod Kapri (@vinodkapri) September 18, 2017
I knew MrinalPande has loads of hatred in her heart.But her performance on Twitter comes as surprise coz in real life she's good at cover up https://t.co/BdkzQ3ur1M

— MadhuPurnima Kishwar (@madhukishwar) September 18, 2017
Mrinal Pande & Manish Tewari both Brahmins hurling abuses to a backward class person. Can they charged under any IPC law? @delhi_lawyer pic.twitter.com/YyPGB8DEfP

— Yogini (@yoginisd) September 17, 2017
गाली देने वाली पत्रकार @mrinalpande1 की सच्चाई पत्रकार @ashokshrivasta6 द्वारा। गाली देने वाली पत्रकार को मोदी जी से इसलिए इतनी परेशानी है। pic.twitter.com/sQKTYHSzqm

— Reetesh Maheshwari (@Reetesh777) September 18, 2017
आपके @MrinalPande1 इस ट्वीट ने दिल जीत लिया 😂 pic.twitter.com/fcWE44zUpj

— Doga ㅤ (@Doga_The) September 18, 2017
बाकी सब बातें तो ठीक है जर्नलिस्ट जी लेकिन ग्रीटिंग कार्ड पर अपनी तस्वीर क्यों लगा ली आपने https://t.co/cVb5vrZde1

— Tajinder Bagga (@TajinderBagga) September 18, 2017
From Jawhar Sircar to Mrinal Pande..watched the old guard shed the veneer of dignity & civility in the past couple of years.Most fascinating https://t.co/qnWOuKXeqn

— Smita Barooah (@smitabarooah) September 17, 2017
Though the media journalists are criticizing Mrinal Pandey, she remains on her tweet. She said that those who do not get the word, do not enjoy the language, they are objecting to it. On the use of the word jumla, she says that those who have coined these words can only answer it. On the criticisms of the journalist fraternity, Mrinal Pandey says that they have not asked for any support or need it, she is alone enough