The Most asking question in India Is why Don't Indian Politicians Kids Join Army Or Study In Govt. schools to Understand the pain of Public. There is hardly any politicos Kid who is serving currently in Armed Forces, But the Brother of U.P. C.M. Yogi Adityanath is An exceptional case who has been deployed on Indo-China Border at LAC at the post of Subedar.
This Information Broke out in social media when News Channel India Today was covering A story on Soldiers deployed at LAC guarding the border. The Indo-China Border is in news since past 4 months over the tension between PLA & IA over Doklam Incident. Therefore LAC has become sensitive amidst threats that the Chinese may carry out incursion in areas where the deployment is not as thick as the other sensitive areas.
While talking to News Channel Crew Subedar Shailendra Mohan, Brother of U.P. C.M. Yogi Adityanath  said,
We carry out patrolling along the border throughout the year against any security challenge. This area is our homeland and we will protect it at any cost
Subedar Shailendra Singh is posted near the Mana border with China in the Garhwal Scouts unit which employs only locals as soldiers to guard the mountainous borders.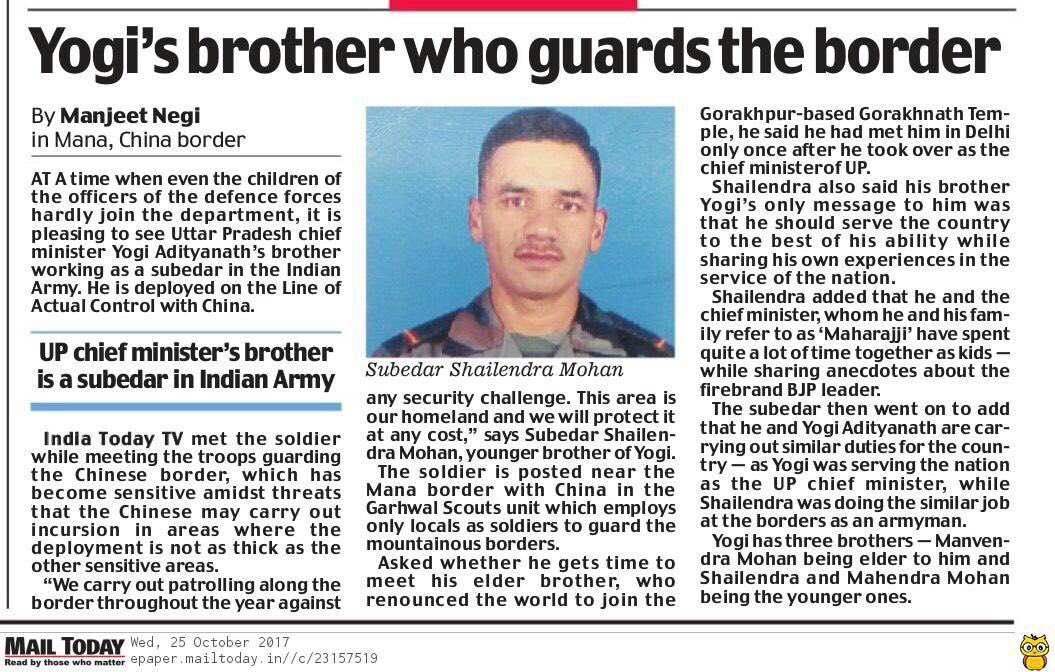 " I had met him in Delhi only once after he took over as the chief minister of UP.," said Subedar Shailendra Mohan when Reporter Asked him whether he met His Brother Yogi Adityanath after he joined Gorakhdham math.
  I & my brother are carrying out similar duties for the country – as Yogi is serving the nation as the UP chief minister, while I am doing the similar job at the borders as an army man.
Subedar Shailendra also said his brother Yogi's only message to him was that he should serve the country to the best of his ability while sharing his own experiences in the service of the nation.