Cricketer Gautam Gambhir who is known for his tough stand is in news again On National Anthem In Cinema halls debate. Gambhir who is well known for his Support to Kins of Soldiers Martyred also revealed in past that his first choice was  Army.
Gambhir In his tweet Has a message for those having an excuse to no to stand during the national anthem, Gambhir in his tweet Said,
"Standing and waiting outside a club:20 mins. Standing n waiting outside favorite restaurant 30 mins. Standing for national anthem: 52 secs. Tough?"
Yes, he has slammed all those people who are against standing up in theaters during National Anthem. After SC ruled out that it's not compulsory to stand up for National Anthem, a debate sparked up on social media.
Standin n waitin outsid a club:20 mins.Standin n waitin outsid favourite restaurant 30 mins.Standin for national anthem: 52 secs. Tough?

— Gautam Gambhir (@GautamGambhir) October 27, 2017
Hardly hours after Gambhir posted a patriotic tweet condemning the masses for not paying due respect for the national anthem.
The renowned stand-up Downrated comedian Kunal Kamra took a jibe at Gambhir regarding his stay at the crease in foreign conditions.
the comedian retweeted,"Sir I can point out many innings where it was tough for you to stand for 52 seconds…"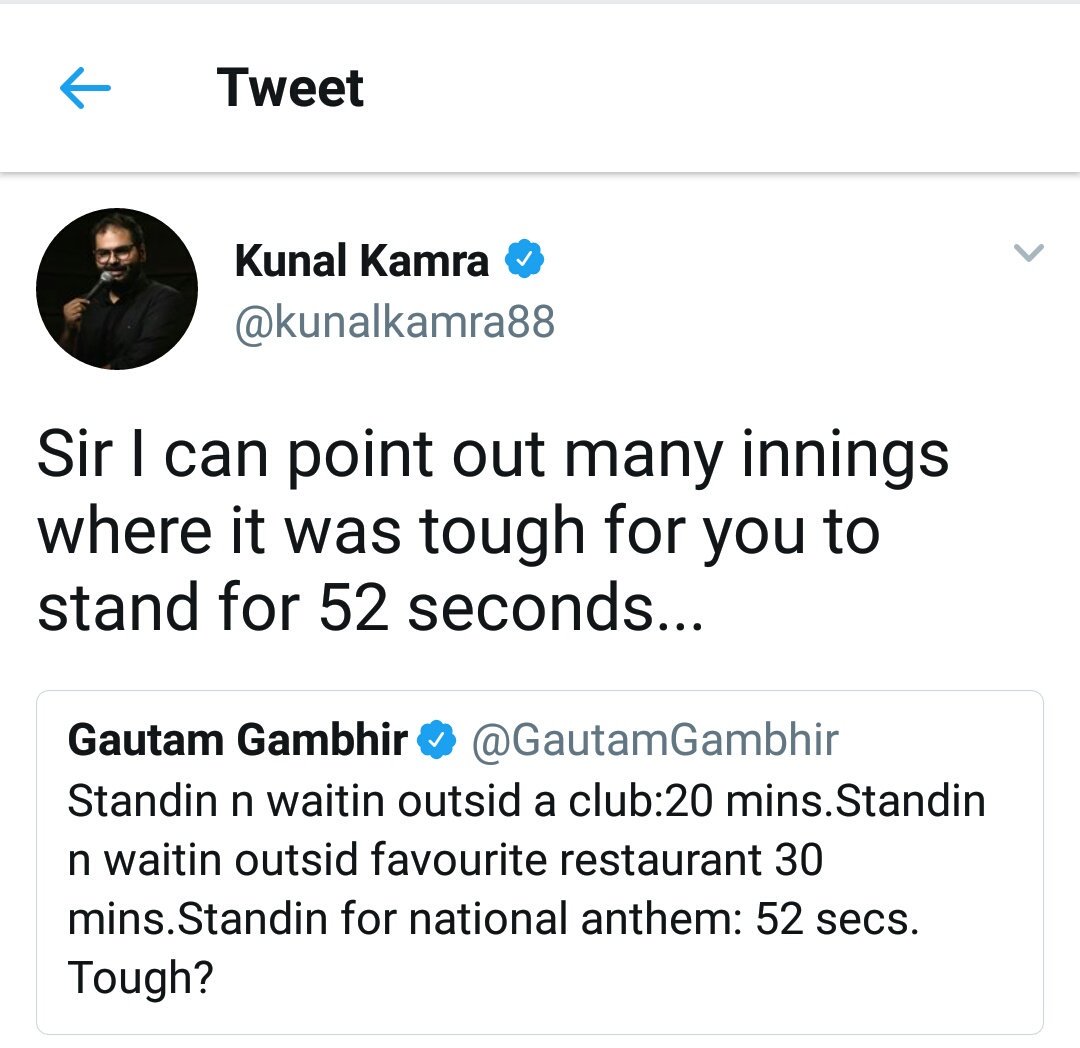 There has been a number of occasions when Gambhir failed to open his account in testing conditions of England, Australia and South Africa.
Kunal Kamra wanted to take a sly dig at the KKR mainstay by enumerating his durations at the crease by comparing with the 52 seconds of the national anthem.
Well after this tweet mentioning Gautam Gambhir, Comedian Kunal Kamra Invited Trouble for himself as Users showed no mercy upon him for his lunatic stand.
Chutiye tera baap khada Tha 2011 final mein??

— Piyush Jhawar (@PiyushJhawar9) October 27, 2017
😍😍😍😍gauti
Let them do blah blah. We stand with you, we love you and respect you as a cricketer.

— 🚩दुर्गा (@Durgasaptshati) October 27, 2017
Sir @kunalkamra88
I can point out many shows where it was tough for you to get standing ovation for 52 seconds.. pic.twitter.com/sJpnQBaBjY

— Subrat Saurabh (@ChickenBiryanii) October 27, 2017
I was aghast to see kind of excuses rats like @kunalkamra88 make to stand for National Anthem, then, I saw @DeepaAthlete 's tweet. #PROUD pic.twitter.com/2x4J2yMsRv

— Legion (@legion__group) October 28, 2017
Fixed it for you @kunalkamra88 pic.twitter.com/Hync07dGbn

— Aakash (@PUNchayati) October 27, 2017
After facing Backlash Kunal Kamra tried to damage control the situation –
I support PIYUSH that was dumb trolling by me https://t.co/v0LkzifQnr

— Kunal Kamra (@kunalkamra88) October 27, 2017
well, this is not the first time when these Jackals Hiding under the skin of Liberals tried to bully those who supported India.