India's Most Unbiased Channel "NDTV"  is in trouble again after editors of many other news agencies confirmed that I&B Ministry Headed By Smriti Irani is going to punish Ndtv By Banning For At least 15 days. In Past Hindi channel "NDTV India" has in the past been accused of compromising India's national security. In November It was reported how NDTV India was given a token 1-day ban for its reporting of the January 2016 Pathankot attack. Soon after the terror attack, the Information and Broadcasting ministry had set-up an Inter-ministerial committee which had expressed grave concerns about the channel revealing sensitive details like location of ammunition depot, the place where terrorists were held up and location of the school and residential areas. In order to challenge the ban on Their own Channel NDTV, Their Editors Knocked the door of Supreme Court against Ba. But this case is in News again when Several Editors dropped & Hinted Ban On NDTV In Next 24 hours.
Abhijit Majumder, Managing editor of Mail Today In His facebook Post wrote,
"A big bomb is about to drop in the next 24 hours. A leading channel is likely to be taken off for 15 days for breaching national security norms.
This action is being taken under the policy guidelines for uplinking of TV/satellite channels in India brought on December 5, 2011, by the UPA govt.
Ambika Soni was the I&B minister then. Another woman, Smriti Irani, is the I&B minister now.
This action is apparently being taken after previous I&B minister Venkaiah Naidu asked the channel for a representation of it, in the government's view, seriously compromised national security while covering a terror attack.
Government sources said while the channel kept informally regretting the coverage, no representation was made.
The channel instead moved court and told SC that it would not apologize for the coverage and it was no such breach.
Clause 6.1 of the policy states that if a channel is found to transmit content "inconsistent with the public interest or national security…permission granted shall be revoked".
While the decision is likely to come into effect shortly, the channel could approach the court again."
Bomb about to drop. A channel may go off air for 15 days for violating 2011 policy guidelines (UPA era), compromising national security

— Abhijit Majumder (@abhijitmajumder) October 26, 2017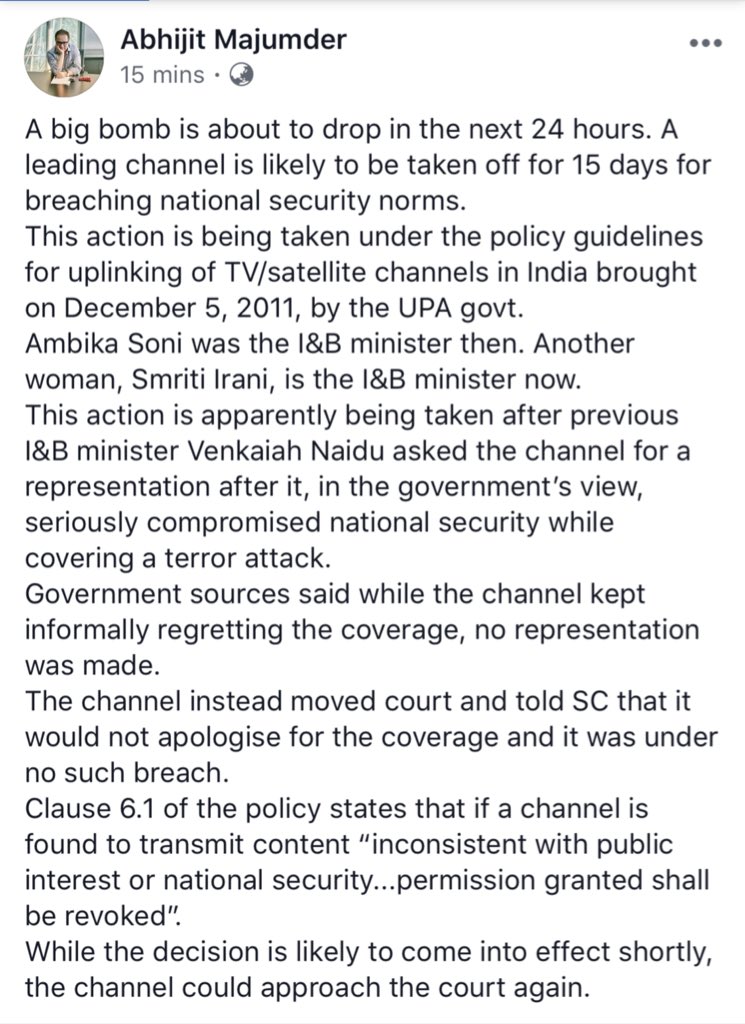 Dwaipayan Bose,  Editor In Chief Of DNA Has Also hinted Ban On NDtv In His Tweets,
Big TV channel which breached terror coverage norms likely to go black for 15 days, says a little bird from Lutyens @dna @sudhirchaudhary

— Dwaipayan Bose (@rijubose) October 26, 2017
This is the second jolt in a day which NDTV Received after  Income Tax Department provisionally attaches Roys' shares in NDTV. According to Media I&B Ministry was not satisfied with the channel's answer and they also refused to apologize which is supposed to have prompted this possible ban.