India media who never miss a chance to tarnish the image of India on the global platform has crossed limits once again when a Radio Fm Channel Radio Mirchi Launched #MatAaoIndia or #PleaseDon'tCometoIndia Campaign after the attack on the Swiss couple while their visit to Fatehpur Sikri In Uttar Pradesh.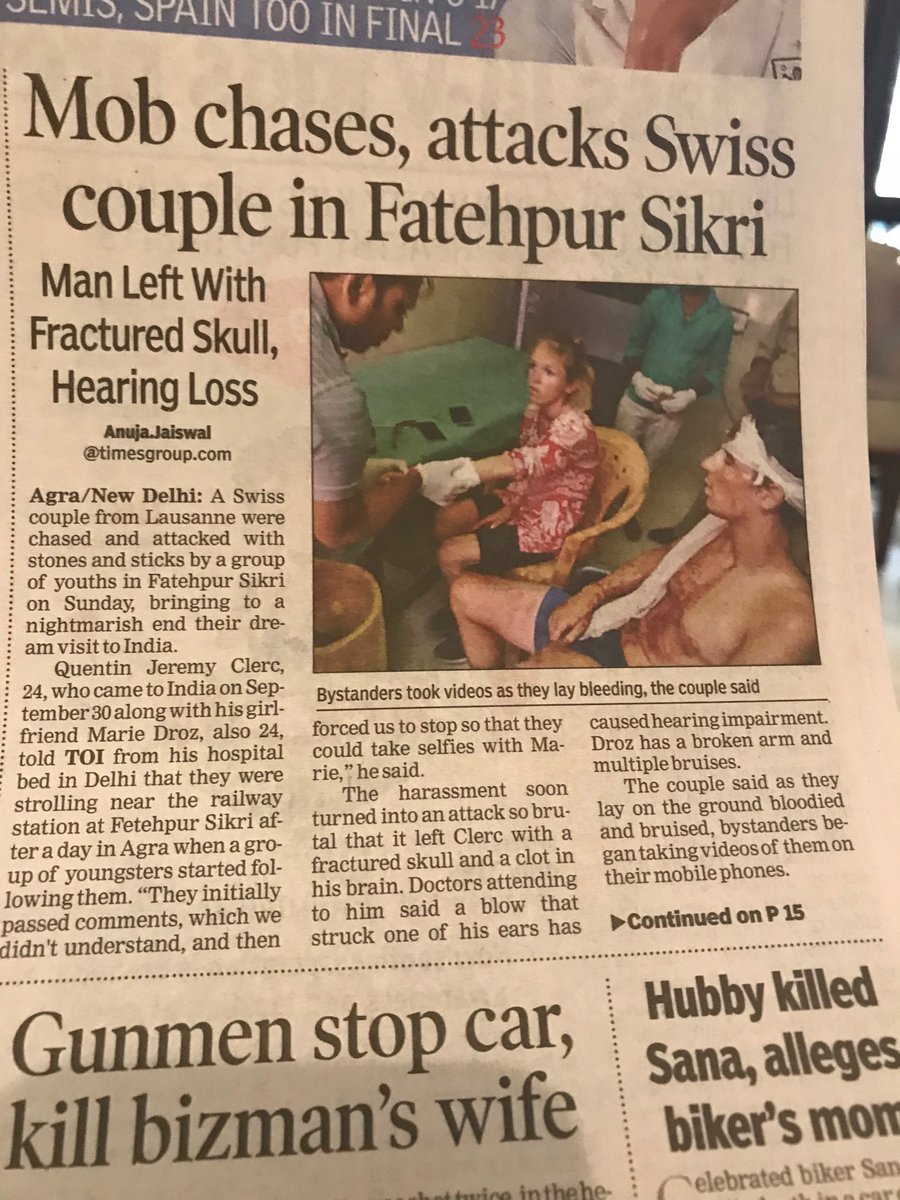 A group of youngsters in Fatehpur Sikri harassed and chased a Swiss couple and left them severely injured with a broken skull, a fractured arm, and a hearing impairment. The incident took place on Sunday afternoon when Quentin Jeremy (24) and his girlfriend Marie (24) were roaming at the Fatehpur Sikri complex and a group of youngsters first approached the couple and asked for selfies with Marie. They then started following the couple and forcibly clicked pictures.
Everyone was abuzz with the outrage on the Swiss couple attack in Agra. Even External Affairs Minister, Sushma Swaraj took to Twitter to assure Indians as well as tourists that the government is working for maintenance of law, order, and safety for everyone.
Soon After this  Radio Mirchi Fm Launched A hateful & India Shaming Campaign against The attack o swiss couple. Akash Banerjee, Vice President of popular radio channel Radio Mirchi hared another video, this time addressing foreign tourists visiting India, urging them to not visit us. At first, he reached out to Swiss Broadcasting Company and passive-aggressively informed them about the attack that took place yesterday. After about 10-12 hours of posting it, he put another tweet in the same thread, addressing same organization saying how India is not safe for tourists and they should not come.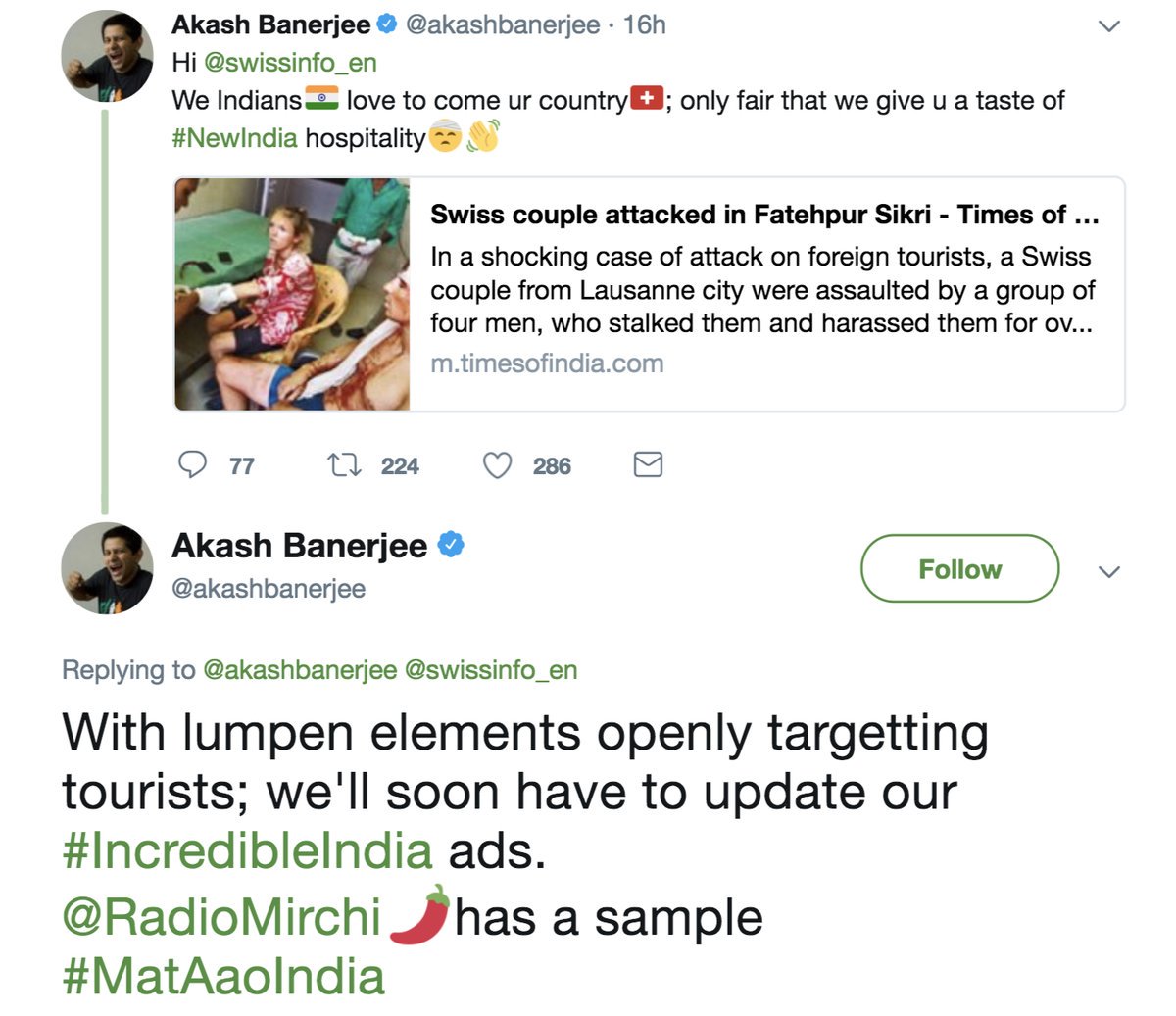 Mat Aao India, Don't Come to India, screams @RadioMirchi's DESPICABLE & UNACCEPTABLE campaign in the wake of an awful, terrible crime. SICK. pic.twitter.com/UfeJEC7c6N

— Anand Ranganathan (@ARanganathan72) October 26, 2017
After this hateful Campaign & Stand of Vice President of Radio Mirchi, social Media Burst Out In anger & Thrashed Radio Mirchi With Negative ratings & Slurrs.
So it's not only Akash Banerjee, even the CEO of @RadioMirchi is a Modi hater, turned into India hater. We must target their big advertisers pic.twitter.com/8Y709NIjSo

— हम भारत के लोग (@India_Policy) October 27, 2017
Dear friends, if you are proud of India and wish her well pl RT to lodge a complaint with @ascionline against @RadioMirchi @akashbanerjee @vineetjaintimes for defaming India, damaging tourism and provoking masses. Show them your power. https://t.co/72QM8CqtXr

— Vivek Agnihotri (@vivekagnihotri) October 27, 2017
Radio Mirchi's Mat Aao India campaign is frankly shameful. Hit the sick goons hard, but why direct the hatred towards your own nation?

— Abhijit Majumder (@abhijitmajumder) October 27, 2017
What right wing protests? ANYONE should protest the ad ..

— pallavi ghosh (@_pallavighosh) October 28, 2017
after the social media outrage, radio Mirchi took off their hateful video 7 issued a public apology –
— RadioMirchi (@RadioMirchi) October 27, 2017
but its too late to apologize as According to reports I&B Ministry has decided to step into the matter and has sent a show-cause notice to the FM station. notice issued t Radio Mirchi stated that the content in question is defamatory and violated the AIR (All India Radio) code. Therefore via the GOPA Phase-III provisions, the channel has been asked to show cause as to why penal action shouldn't be taken against it. The radio channel has been asked to furnish its reply within 15 days of receiving the notice, failing which the ministry would be constrained to initiate action.