Rahul Gandhi's visit to the Somnath temple today got mired in a controversy after his name was found written on the entry register meant for non-Hindus, with the Congress calling it "fake" and BJP insisting that the leader declare his religious faith before people.
Rahul Gandhi who is on Temple Tourism On Gujarat Due to Elections started his Campaign after visiting Famous Somnath temple. But His plan Backfired when a photo of the sign of Rahul Gandhi on a register meant for non-Hindu visitors while paying a visit to famous Somnath temple at Rajkot in Gujarat went viral.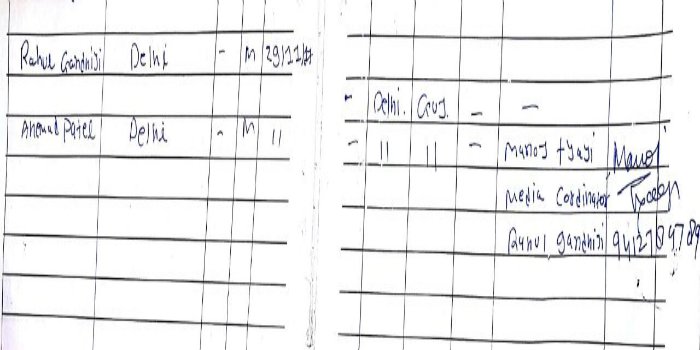 In June 2015, Shri Somnath Trust had made a rule that any non-Hindu entering Somnath temple will need to declare it in a register and he/she will be allowed to visit the temple with security person from Shri Somnath Trust accompanying him/her. Shri Somnath Trust has in this connection put a signboard outside the entry point of Shri Somnath Mandir issuing the instruction that non-Hindus will need to take permission for darshan at Mandir.
Rejecting BJP's allegations and defending Rahul Gandhi, the Congress accused the saffron party of playing dirty politics and hatching a cheap conspiracy by fabricating entries in the register kept at the Somnath temple, calling the Gandhi scion a "devout Hindu" and a strong "Shiv bhakt".
'The names of both Rahul Gandhi and Ahmed Patel have been entered in the non-Hindu Register. Manoj Tyagi, media coordinator of Rahul Gandhi had made the entry. As per rule, it was compulsory to make such entry at the security point close to entry gate for all the non-Hindu entrants,' said PRO Somnath Temple Trust Dhruvbhai Joshi.
Ahmed Patel,Rahul Gandhi's names were entered in non-Hindu register by Rahul's media coordinator Manoj Tyagi.As per rule,it's compulsory to make such entry at security point close to entry gate for all the non-Hindu entrants: PRO Somnath Trust Dhruv Joshi https://t.co/P28ghC3hF4

— DeshGujarat (@DeshGujarat) November 29, 2017
After this news breaks out in media here comes trolls to with their witty humor & sarcasm .
Here are some of them –
WHAT?!? Zee Gujarati has just broken the news that Rahul Gandhi declared himself a non-Hindu in the Somnath Temple entry form.

The question is: Why is he visiting temples in case he is ashamed of calling himself a Hindu? Or has he secretly converted to his mother's religion? 😳

— Sonam Mahajan (@AsYouNotWish) November 29, 2017
It doesn't matter to me if Rahul Gandhi ji is Hindu or Not, the fact that he is the best Stand-up comedian we have is enough for me.

— PhD in Bakchodi (@Atheist_Krishna) November 29, 2017
1998 @nytimes article on Sonia Gandhi clearly mentions that Rahul Gandhi & Priyanka raised as Catholics.
Priyanka married Robert Vadra, a punjabi turned catholic.#राहुलकाधर्म_क्या https://t.co/GCHGfy3xcf pic.twitter.com/KYF050xoKh

— Rishi Bagree 🇮🇳 (@rishibagree) November 29, 2017
Strange why Rahul Gandhi did not proudly say that he has Kashmiri Pandit roots. That should be more important identity than a loaded political statement of him being a 'जनेऊ-धारी हिंदू'. #RahulHinduOrCatholic pic.twitter.com/AbrmhTD0O7

— Aditya Raj Kaul (@AdityaRajKaul) November 29, 2017
Why Congress is now defending #SomnathTemple incident by showing feedback in visitors book? Rahul Gandhi listed as non-Hindu by Congressi Manoj Tyagi. Irony is Congress blaming BJP as if Manoj Tiwari did it .

— Anshul Saxena (@AskAnshul) November 29, 2017
Shehla Rashid: Brahmins are fascist castiest scum of earth I hate them I will them all RIGHT NOW YA ALLAH DEATH TO BRAH…
Rahul Gandhi: I'm a janeu dhari brahmin
Shehla Rashid: …so I was saying ..I always wanted to marry a Brahmin boy since childhood

— Adi/Reviewero (@reviewero) November 29, 2017
congress claimed that image being ciculated is fake
Clarification: There is only one visitor's book at Somnath Temple that was signed by Congress VP Rahul Gandhi. Any other image being circulated is fabricated.

Desperate times call for desperate measures? pic.twitter.com/KOokFOH83z

— Congress (@INCIndia) November 29, 2017
but they caught again.
Pidi got caught.

These clearly are post-visit remarks which are collected from most VIPs towards the end of their visit. Declaration of religion is made at the time of entry. You don't give feedback before the experience.

Also, it's a temple, not some place.#Somnathtemple https://t.co/29p7gagFGk

— Sonam Mahajan (@AsYouNotWish) November 29, 2017